Melissa Wolfe, DDS
Dr. Wolfe is committed to providing a high level of care to her patients. She is a problem solver who enjoys taking care of families and seeing their dental health improve. Dr. Wolfe earned her dental degree from Virginia Commonwealth University/Medical College of Virginia in 1993. Prior to this, she received her undergraduate degree from Randolph-Macon Woman's College. She also earned an Advanced Education in General Dentistry during her residency at Hampton VA Medical Center in 1994. She continues to advance her knowledge by traveling extensively to take continuing education courses.
Further adding to her impressive skillset, Dr. Wolfe is a member of the American Dental Association and the Dental Organization for Conscious Sedation. Dr. Wolfe's husband, John Charles Wolfe, DDS, is also a dentist in Charlottesville.
---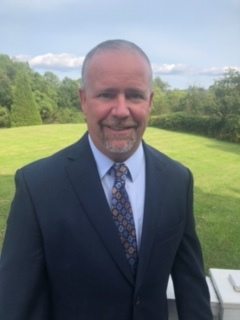 Curt Crowder, DDS
Dr. Curt Crowder is a native of Waynesboro. His late father, Dr. Ray Crowder, practiced in Waynesboro until 1996. Dr. Crowder graduated from the Virginia Military Institute in 1994 and joined his family practice following graduation from the VCU School of Dentistry in 2001 with his sister, Dr. Paige Crowder. He practiced in Waynesboro for 15 years and spent another 10 years in Northern Virginia.
Dr. Crowder focuses on comprehensive dentistry, including family, cosmetic and implant dentistry. He has a vast amount of experience in all areas of general dentistry and has been placing and restoring dental implants for over 10 years. Single-tooth dental implant placement and restorations, multiple teeth restorations, and full-mouth implant-retained dentures are his passions.
Dr. Crowder has volunteered for the Augusta County Free Clinic and Charlottesville Free Clinic to help the citizens of our community. He has also spent time volunteering in the Dominican Republic removing teeth and placing dental implants for many years.
He is married to Dr. Nellie Crowder, who practices dentistry in Crozet, Virginia. He enjoys fishing, hunting, hiking and watching his two kids play various sports in Albemarle County.
---
Stacie – Lead Dental Assistant
Stacie has worked in the dental field for a long time and has been with our practice for over 20 years. Because of this, she has great confidence in her abilities, which translates to the patients. Her favorite part of working for Maple Ridge Dental is the staff's amazing teamwork. Stacie attended the Akron Institute of Dental Assisting and received a Clinical & Academic Award while there. Stacie has been married for over 20 years and has two sons, and they are both engineering students at Virginia Tech. In her free time, she enjoys entertaining her two dogs.
---
Destiney – Dental Hygienist
Destiney started in the dental field as a certified dental assistant for eight years. This experience led her to pursuing her dental hygiene career. She graduated from Virginia Western College in Roanoke as a registered dental hygienist in 2013 and is certified to provide local anesthesia in situations needed for ultimate patient comfort. She strives to provide compassionate, thorough, yet gentle care and enjoys educating patients on good oral hygiene practices while reviewing various dental aids that promote overall oral health.
Destiney is married and enjoys being a dog mom to her husky and spending quality time with her family. She loves the outdoors or anything that allows her dog to attend, antiquing, and building projects with her husband.
---
Kendall – Dental Hygienist
Kendall graduated from Virginia Western Community College in 2020 and takes any opportunity she can to learn new advancements in the dental field! She is a member of the American Dental Hygiene Association and prioritizes the overall wellness of patients by providing thorough treatment and education using the most advanced research and ethics-based practices.
Kendall is married to Jake, who also enjoys caring for others as an EMT for the Harrisonburg community and Shenandoah National Park. When she is not working, Kendall enjoys eventing her Akhal Teke mare, hiking new trails, camping in the valley, trying new bakeries, and spending time in Corolla with friends and family.